2023
Vito Sputnik
performed
live tango music
at our summer milonga held in collaboration with
Glasgow Tango
.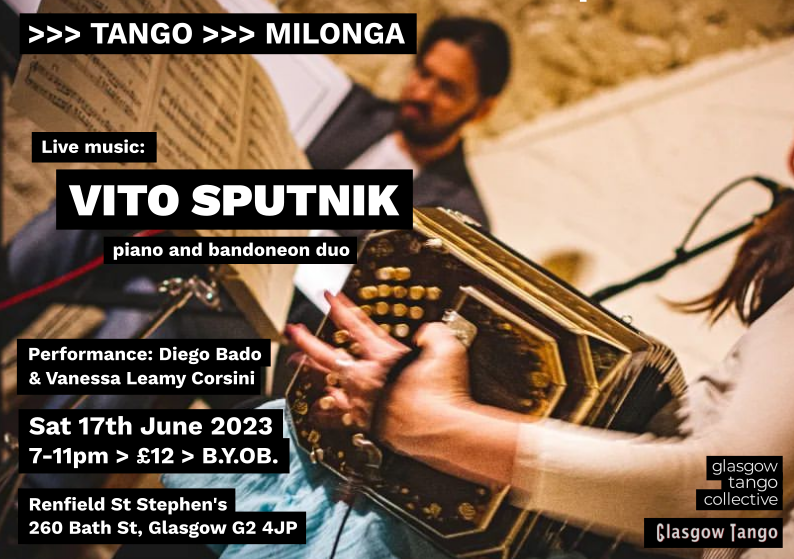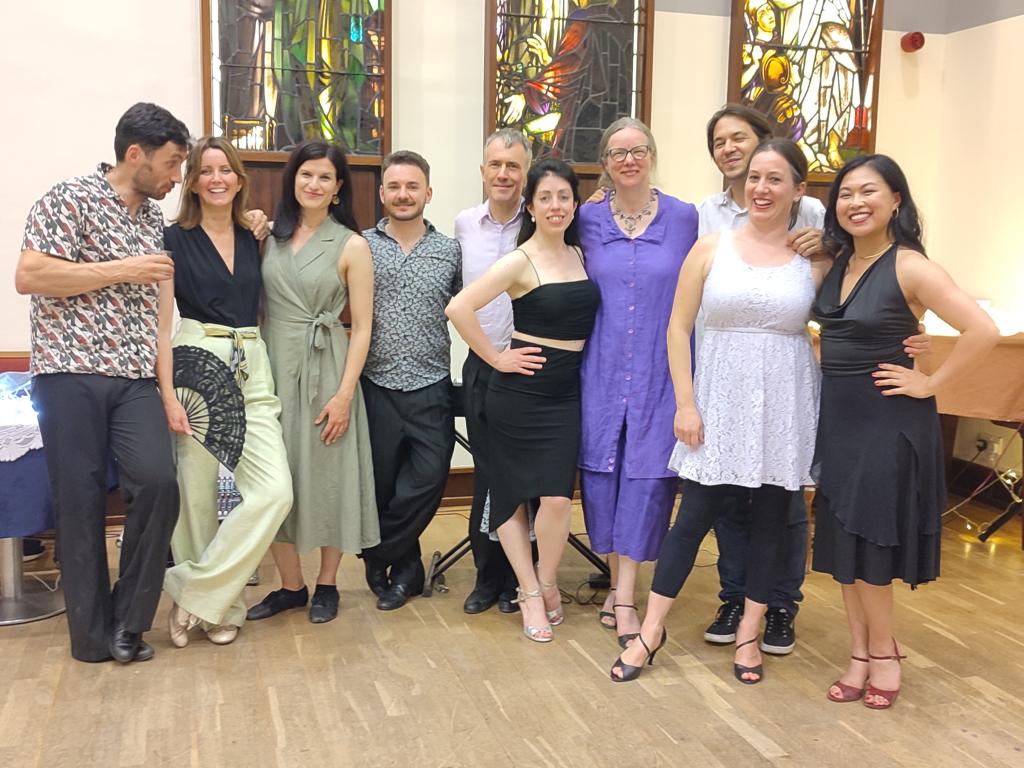 Fransley Marcel and Laura Murphy
taught in Glasgow on
Monday 6th February 2023
.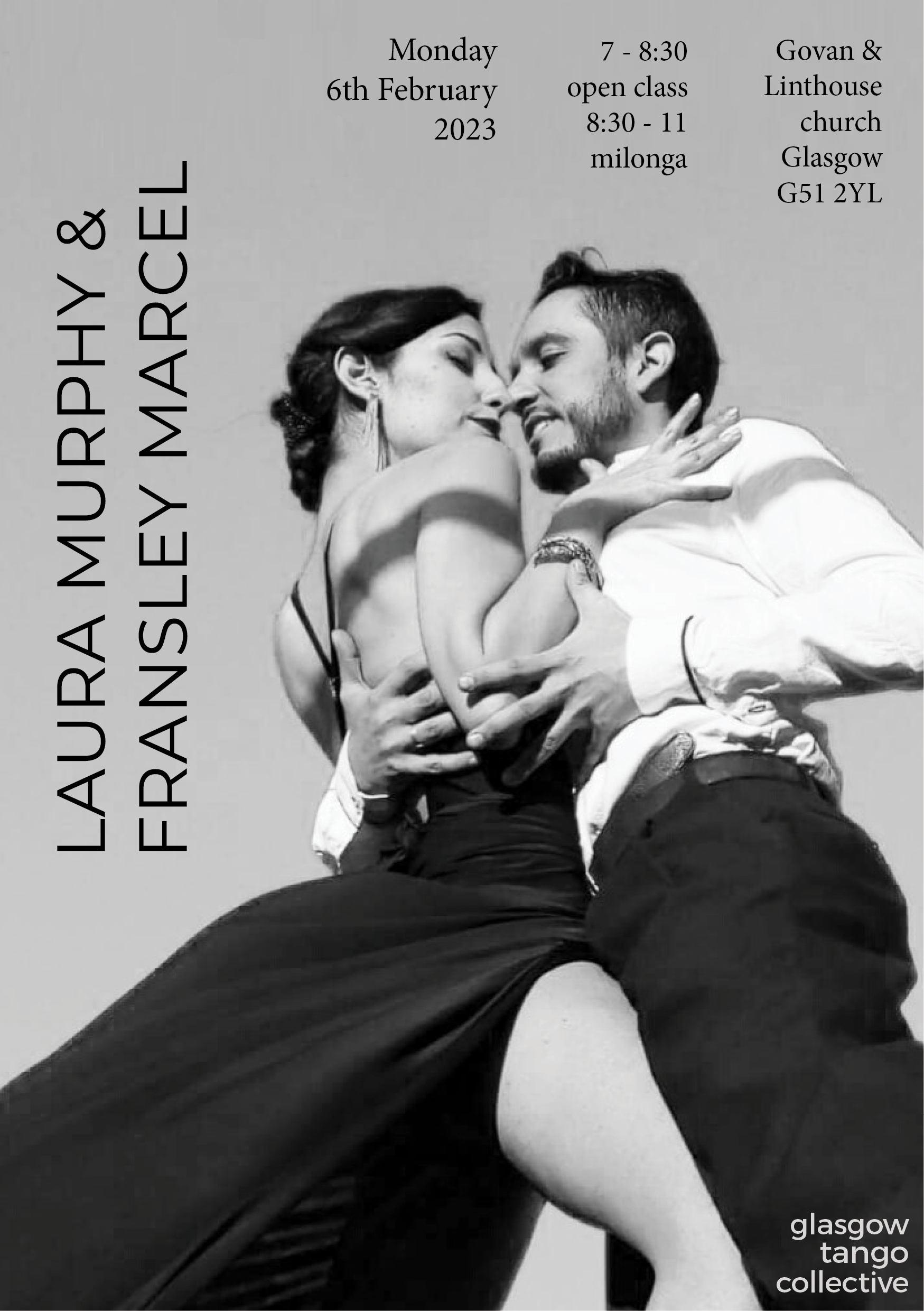 Diego Bado
is continuing his residency in Scotland in 2023, teaching with Vanessa Leamy Corsini.
2022
Diego Bado taught and performed in Scotland in November and December 2022.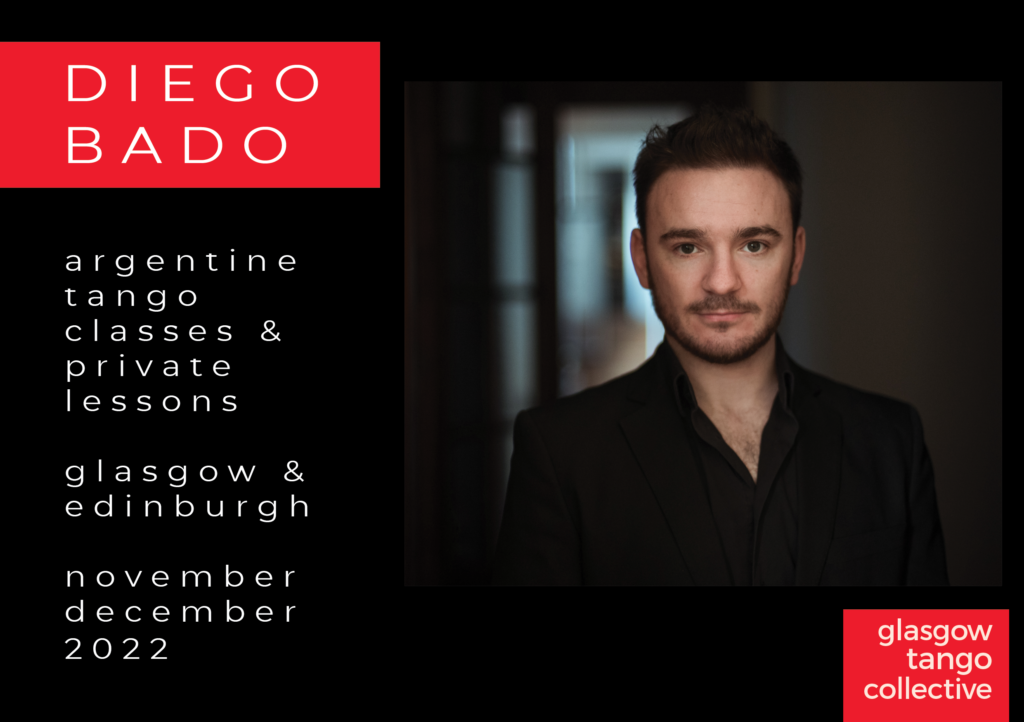 2021
Damian Thompson returned to Glasgow in November 2021 as Covid restrictions were lifting, teaching
a weekend of workshops with Vanessa Leamy Corsini
.
Covid: 2020-2021
These events were suspended owing to the Covid-19 (Coronavirus) pandemic:
Diego Bado would have been resident in Glasgow from March until May 2020, teaching regular classes with Vanessa Leamy Corsini. 
The Pannonica Quartet would have performed live music at a special edition of our Midnight Milonga on Saturday 18th April 2020.
During the Covid-19 pandemic Vanessa taught online tango technique classes.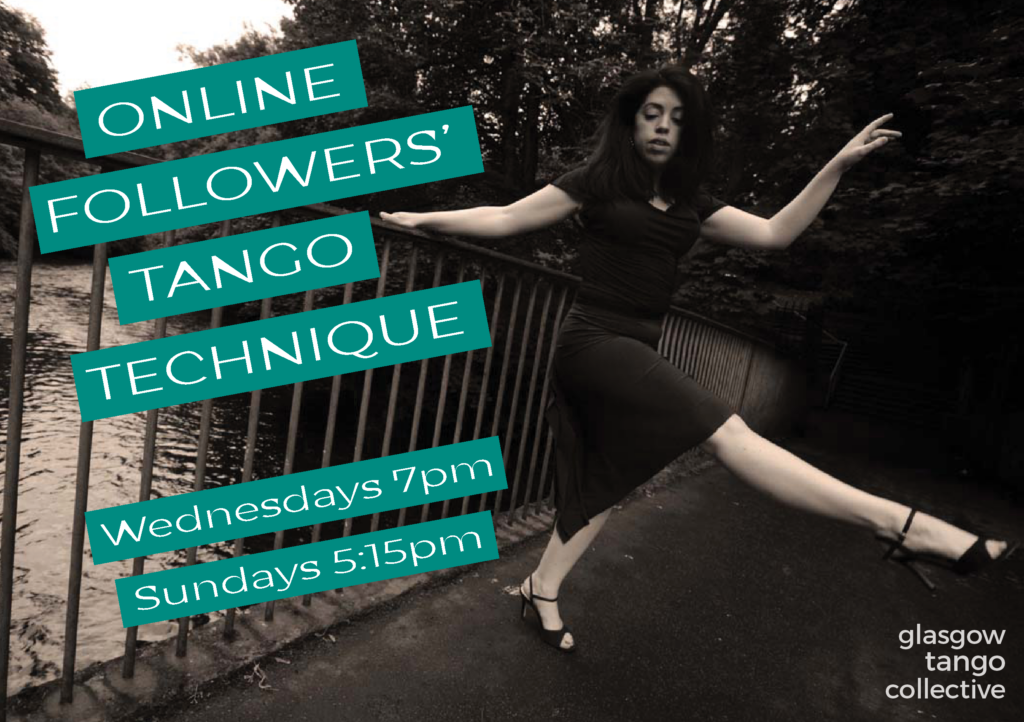 2020
Midnight Milonga Buenos Aires Edition on Saturday 18 January  featured special guest DJ and dancer Benjamin Galian, teaching with Vanessa Leamy Corsini.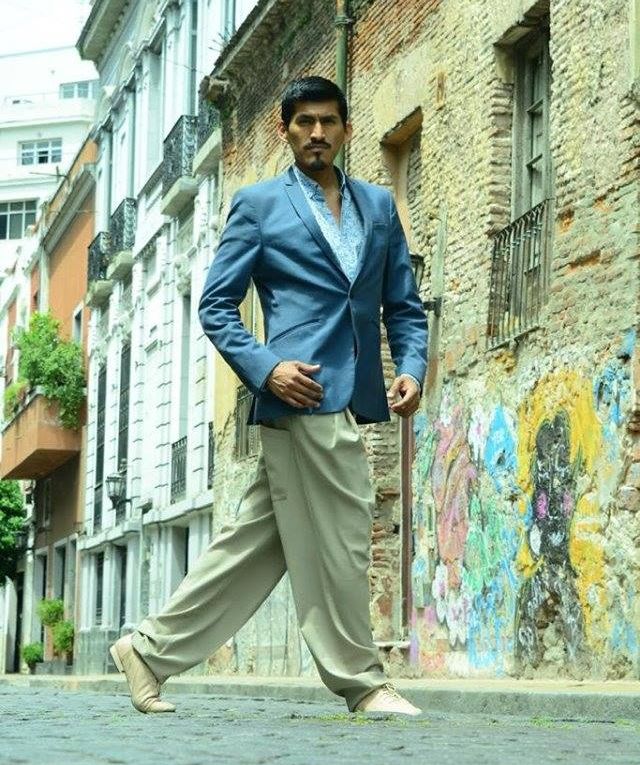 Mariana Ancarola and Damian Thompson returned to Glasgow to teach over the weekend of the 8th and 9th February.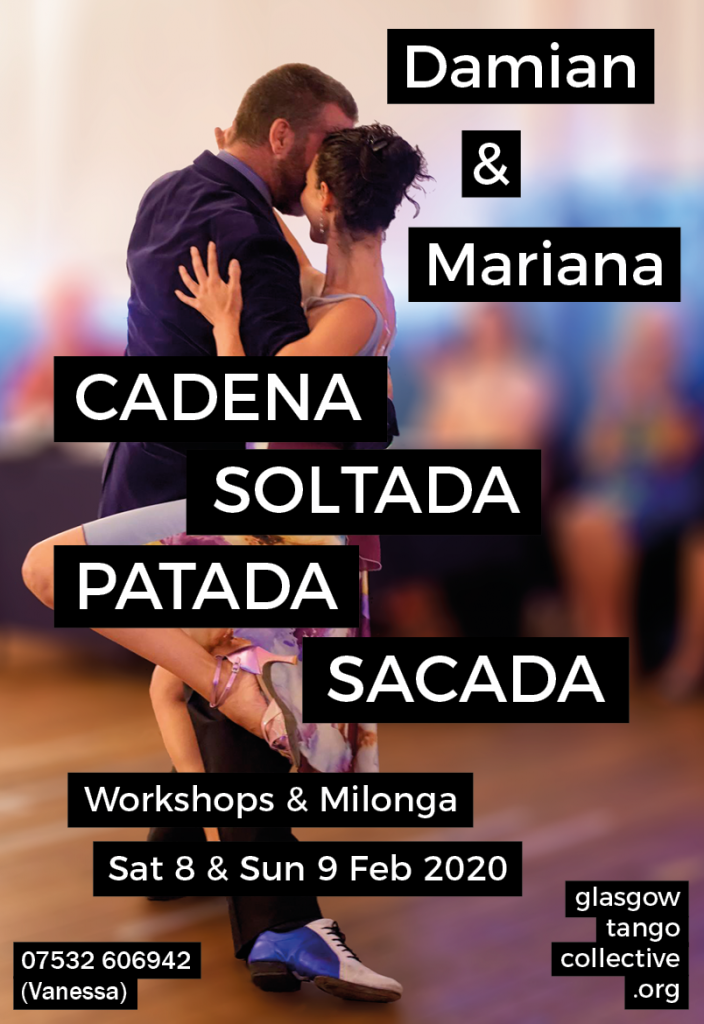 2019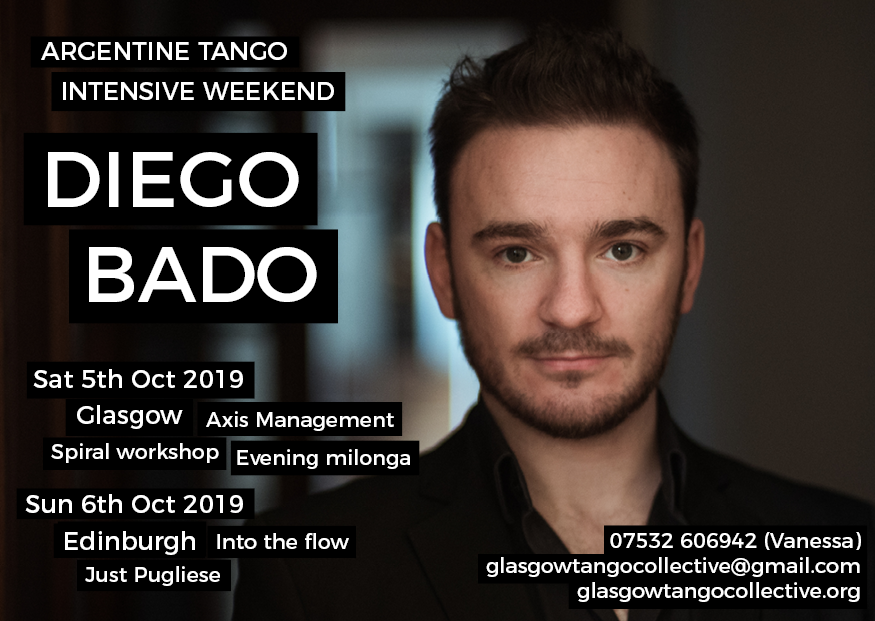 Diego Bado visited Glasgow for the first time in the spring, teaching workshops on the 2nd-3rd March, and returned to teach on the weekend of the 5th and 6th October 2019.
We welcomed Diego Denett to teach in May 2019.
2018
Tomas Corbalan gave wonderful intensive tango seminars with in October 2018. We are already looking forward to his next visit!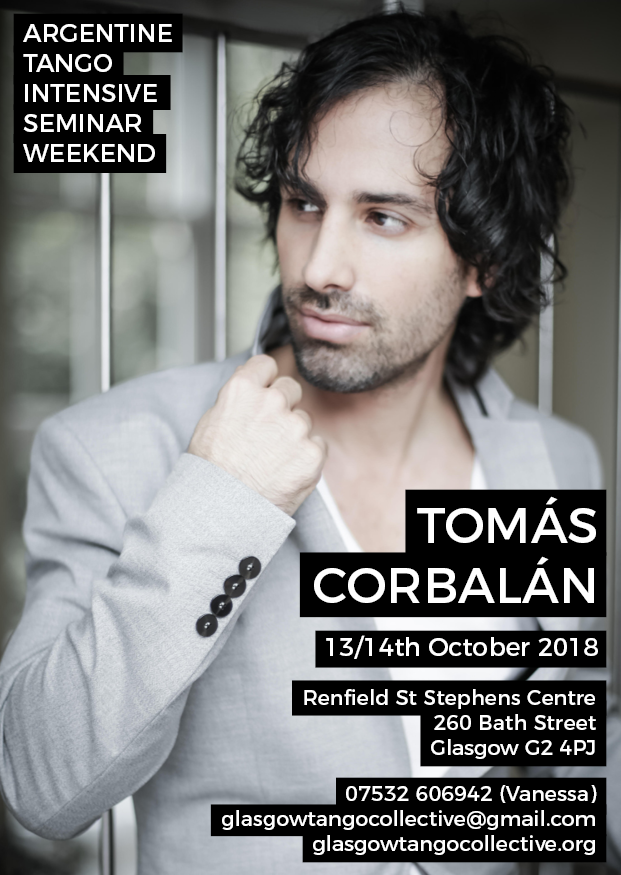 Thanks to everyone who made it through the snow to attend our 2018 spring festivalito starring Salon Tango world champions Clarisa Aragón and Jonathan Saavedra!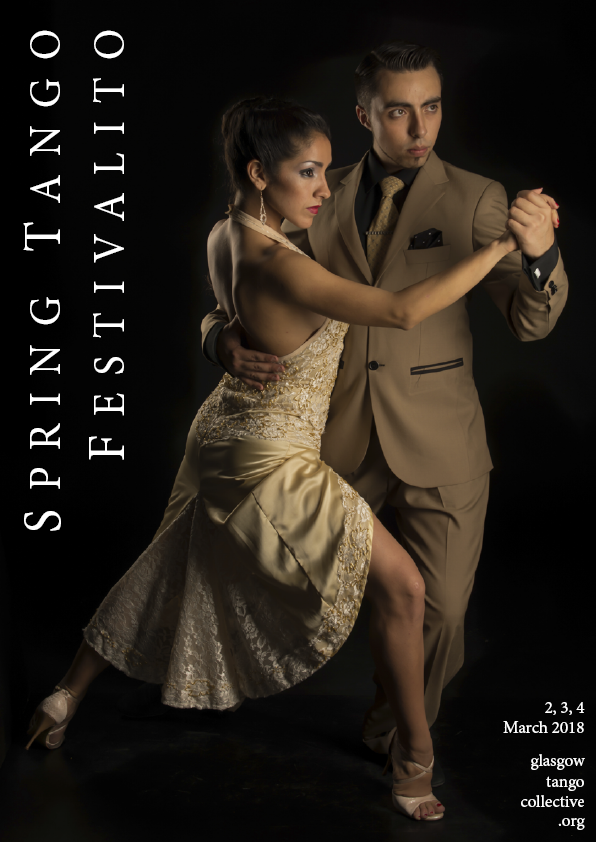 2017
In December 2017 Damian Thompson taught intensive workshops with Vanessa Leamy Corsini.
Our 2017 Festivalito starred the wonderful Stephanie Fesneau and Fausto Carpino.