Thanks to Diego Bado for returning to Scotland and teaching workshops and dancing in Glasgow on Saturday 5th October and Edinburgh on Sunday 6th October 2019.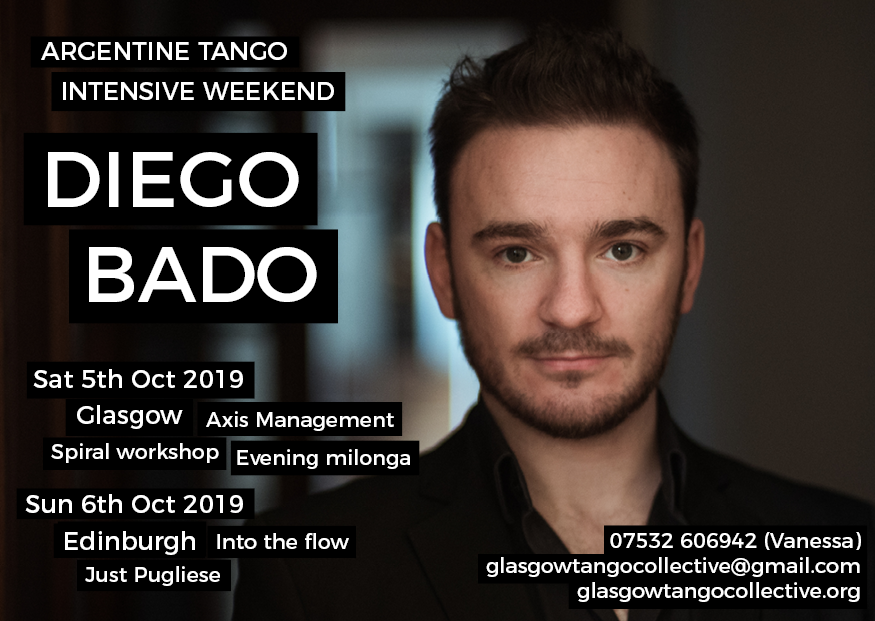 Programme
Saturday 5th October  2019 – Glasgow
11am – 12:30pm: "Axis management" – Tools for conscious management of the different relations of axes between the members of the couple (parallel, in colgadas, in volcadas, in elastic movements).
1:30 – 3pm: "Spiral workshop" – Spiral movements. Twisted movements in close embrace. Transforming linear sequences into circular sequences.
Long movements in reduced spaces.
8pm – midnight: GTC Milonga
Sunday 6th October 2019 – Edinburgh
3pm – 4:30:
"Into the flow" – Techniques to generate fluency and continuity of movement in dance. Subtle communication: continuous movement in the pause.
4:30 – 6pm: "Just Pugliese" – Learning to listen to Pugliese's orchestra. Learning to dance to Pugliese's music.
For dancing afterwards head to the Counting House for the Edinburgh Tango Society's Sunday Evening Milonga (7 – 11pm).