The Glasgow Tango Collective is delighted to announce a return to dancing on the 13th and 14th November 2021 with a weekend of specially crafted lessons and an intimate evening milonga featuring our good friend and maestro DAMIAN THOMPSON teaching with our very own Vanessa Leamy Corsini. Designed to get you safely back on the dance floor and refresh your tango technique, there are four workshops to choose from and the opportunity to dance away at a Saturday milonga, all at Govan & Linthouse Parish Church.
Numbers are limited, covid precautions will be in place and booking is essential: details and form below.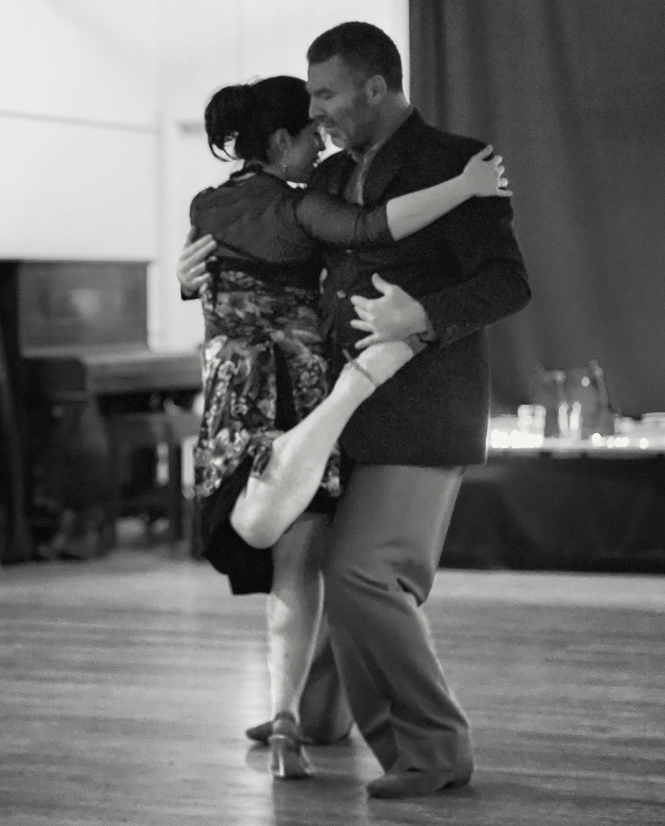 Programme
Day 1: Saturday 13 November 2021
• 10am – 11:30am: Ganchos and boleos
• 11:30am: Practica & break
• 12:30pm – 2:00pm: Boleos to sacadas
• 2:00pm – 2:30pm Practica
• 8pm – midnight: Milonga
Day 2: Sunday 14 November 2021
• 12pm – 1:30pm: Soltadas
• 1:30pm: Practica & break
• 2:30 – 4pm: Changes of direction using sacadas, voleos and soltadas
• 4:00pm – 4:30pm: Practica
Prices
Immersion workshops are £40 per day or £75 for both days (students £35 or £65). The milonga costs £10 (students £7).
Venue
Govan & Linthouse Parish Church
796 Govan Road
Glasgow G51 2YL
The church is across the road from Govan subway station. (Map)
Unfortunately, we will not be able to provide our usual delightful selection fruit, snacks and water. Please remember to bring you own, or visit the café and other facilities by the church.
Enquiries
Please email glasgowtangocollective@gmail.com or contact Vanessa on 07532 606942.
Covid-19
After much consideration, and recognising that the pandemic is still very much with us, we have decided to take a lead from our friends at Edinburgh Tango Society regarding the Covid protocol for this event. To ensure your safety as best we can, we will put in place the following safeguards:
1. Workshop and milonga numbers are limited to 24 and 40 dancers respectively. You must pre-book the lessons and/or milonga in order to attend. If you have booked and find you are unable to attend then please cancel your booking as early as possible so that the limited spaces available can be reallocated.
2. There will be Track and Trace notices on the door. You must fill out the Track and Trace information. It is a requirement of the premises.
3. You must not attend if you are feeling unwell, especially if you are suffering from covid symptoms or similar viruses like cold or flu.
4. You must also show evidence on the door of:
(i) having received two doses of vaccine against covid at least two weeks prior to the milonga
(ii) a negative lateral flow test within 24 hours of entry.
We will check vaccine and test status on entry as well as temperature.
6. You must wear a mask on entry to the building and when you go to the toilets but otherwise masks are optional when dancing. Please respect other people's right to wear a mask if they wish to.
7. Please sanitise your hands on entry and regularly throughout. Hand sanitiser will be provided.
With these safeguards in place changing partners will be permitted at the milonga. There will be no requirement to change partners at the lessons, but individuals can choose to do so by mutual agreement.
You can download a PDF of your vaccine status and a Covid passport onto your phone from the NHS Inform Website for showing at the door. We will also accept EU vaccine passports. We need to be able to see that you have had a second dose at least 2 weeks ago.
Lateral flow tests are available free by post from the NHS Website, from pharmacists, covid test centres and some libraries. Tests take around half an hour to perform and on reporting your results within a few minutes you will receive a text and or an email. You will be required to show the text or email showing a negative result within the previous 24 hours on entry.
We appreciate that some of you may find yourselves excluded by some of these safeguards. Please bear with us: we hope they will not be required for too long. While we have put in safeguards over and above the minimum required by the law to mitigate as much risk as we can, dancers coming to Glasgow Tango Collective events still dance at their own risk.