Thanks to everybody who attended our February Festivalito featuring the wonderful Stephanie Fesneau and Fausto Carpino! We look forward to welcoming you to Glasgow again in future!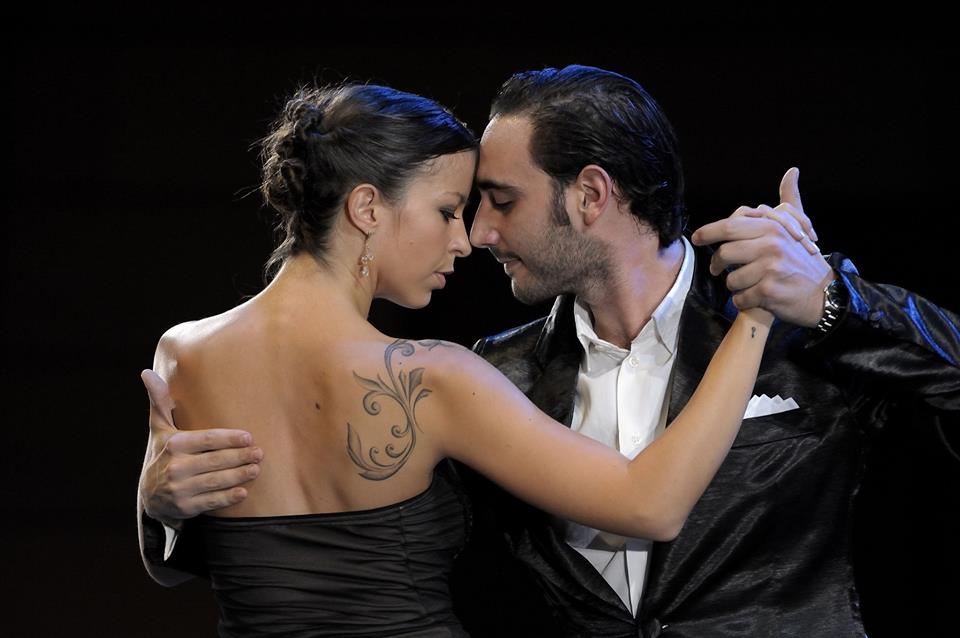 About Fausto and Stephanie
FAUSTO AND STEPHANIE are professional Argentine tango dancers, teachers and DJs.
FAUSTO CARPINO (Syracuse, Sicily) had his first encounter with dance at the age of six, and spent the next twelve years studying and competing with great success in regional and national ballroom competitions. At sixteen, Fausto was introduced to Argentine tango by his sister Barbara and partner Claudio, and was immediately hooked. With his ballroom training, he learnt rapidly and soon they together opened Paladanze, the first Argentine tango school in Syracuse. Since 2004 he has been teaching and developing his tango full time. He co-organized the Syracuse International Tango Festival from 2006 to 2012. At the end of 2006 he met Veronica Toumanova, whom he partnered on the dance floor from 2007 to 2011. Later, for a short period, he collaborated with Anna Solakius and Maria Filali, before forming a partnership with Stephanie Fesneau in July 2011.
Fausto is also a recognised tango DJ, performing at major festivals, marathons and milongas in Europe, Russia, Turkey, Ukraine, Canada and Argentina since 2008, though recently he has had less time to dedicate to DJing.
STEPHANIE FESNEAU (Paris, France) was immersed in dance and theatre as a child, and discovered tango through a friend at the age of sixteen. Tango has since has become increasingly essential in her life. She quickly began to teach at Zlota Milonga, one of the best schools in Warsaw, before returning in 2009 to Paris to teach at one of the city's oldest schools, Le Chantier. In 2011 she moved to Florence, teaching for two years at the 'Pablo' school. In her short but intense tango career, she has had a number of dance partners in Warsaw, Paris and Florence, before forming a fixed partnership with Fausto Carpino.
FAUSTO AND STEPHANIE have been a dance couple since July 2011, and after a period of intense preparation, began to teach at a variety of tango events. They have since taught in more than 27 countries and 80 cities. Their lessons focus on how to propose oneself to one's partner in a comfortable way within the embrace, based on coherent and natural movements.
Programme
Friday 3rd February 2017
Friday milonga: 8pm to midnight
Saturday 4th February 2017
Workshop 1 – 11 to 12:30pm – Music basics: 1/2: Change of dynamics, pauses, lead and interpretation in tango (intermediate)
Workshop 2 – 1 to 2:30pm – Rhythmic milonga (open)
Workshop 3 – 3 to 4:30pm – Combinations of boleos and sacadas (advanced)
Saturday grand milonga (with performance): 8pm to midnight
Sunday 5th February 2017
Workshop 4 – 12 to 1:30pm – Turns and barridas (intermediate)
Workshop 5 – 2 to 3:30pm – Rhythmic vals combinations (open)
Workshop 6 – 4 to 5:30pm – Tango salon combinations (advanced)
Venue
All events took place at Renfield St Stephens parish church training centre, 260 Bath St, Glasgow G2 4JP (map).
Enquiries
Please email glasgowtangocollective@gmail.com with any questions, or see the Facebook event.