Don't miss out. Diego Bado is back and teaching with Vanessa Leamy Corsini in Glasgow and Edinburgh until June 2023.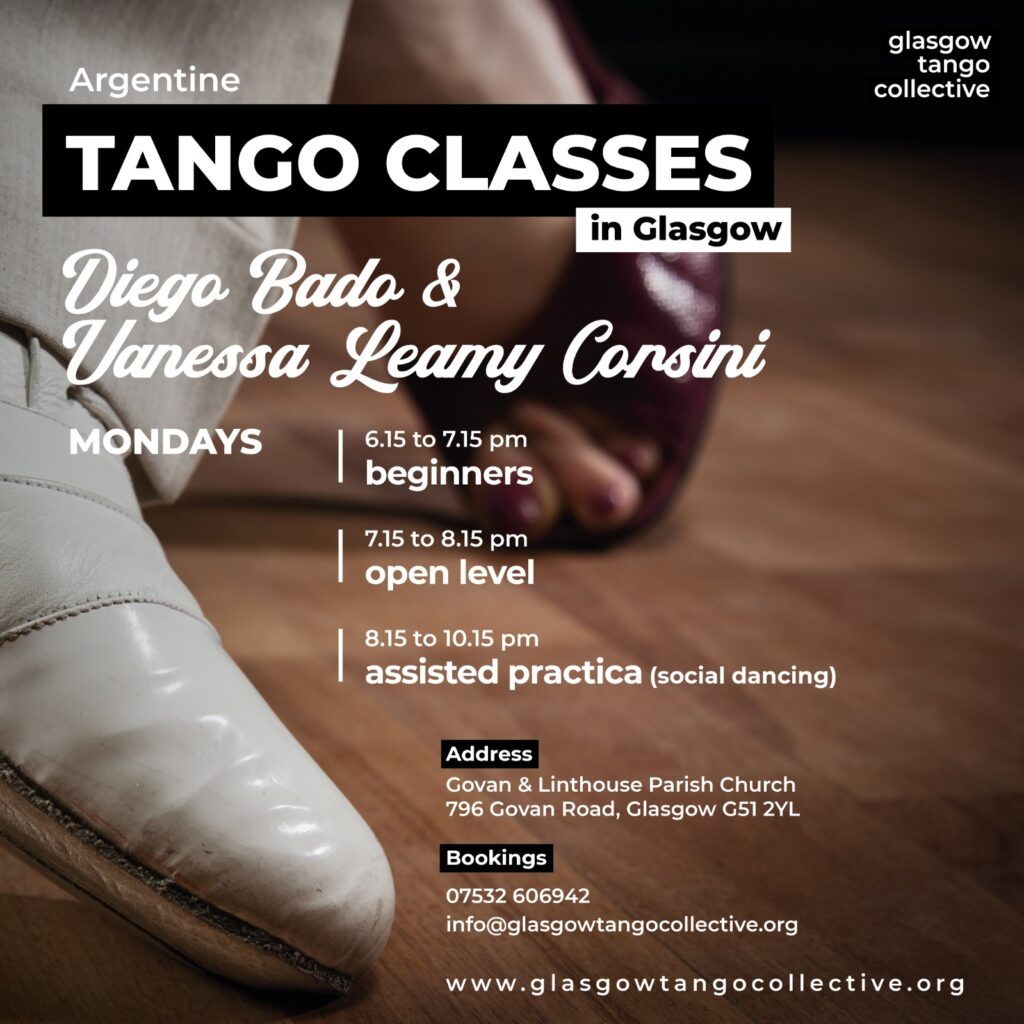 The first block of beginners' lessons in Glasgow is underway and will continue throughout March every Monday from 6.15 to 7.15pm. The new block commences on 17th of April. All at our Govan venue in Govan & Linthouse Church Hall G51 2YL. Spread the word, tell your friends, encourage everyone you know to take up tango.
Weekly open level classes continue on Mondays in Govan from 7.15 to 8.15pm. Followed by our lovely two-hour practica from 8.15-10.15pm. Perfect for making Monday a magnificent tango night.
You can also catch Vanessa and Diego teaching open level classes in Edinburgh on Thursday evenings.
Interested in taking your tango to the next level? Both Diego and Vanessa offer private lessons. Please contact Vanessa vanessa@glasgowtangocollective.org (07532 606942) or Diego dbadomail@gmail.com (07496 628094)
Save the date – Saturday 18 March – as there will be a return of our monthly events starting with a Saturday Milonguita. We are trying out a new West End venue at Partickhill Bowling Club. Come and join us at 46 Partickhill Rd, Glasgow, G11 5BY.A delicious evening of music and dancing await from 7 to 11pm. There will be a free tango taster session from 6:15 to 7pm and bar service from 8-10.30pm.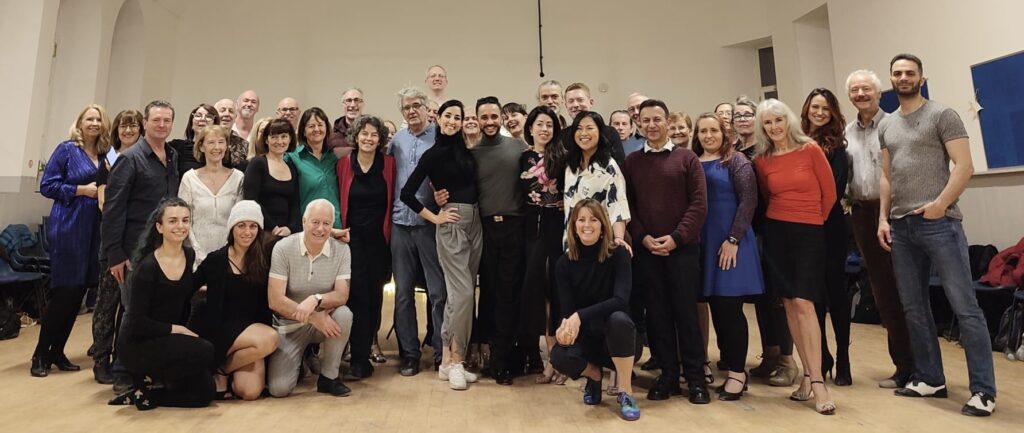 Thank you to the fabulous Fransley Marcel and Laura Murphy for making February a FANTASTIC month for tango here in Glasgow and Inverness. We loved their energy, kindness and fun, and have been inspired by their teaching. For everyone lucky enough to visit Buenos Aires, please make sure to visit Fran and Laura at the Dinzel Studio. A big thank you to DJ Diego Bado for providing the sensational soundtrack to what was a spectacular evening of tango.
We bet you look good on the dance floor! See you on it, abrazos,
Glasgow Tango Collective
Thursday 28 September 2023

Open level tango class in Edinburgh
6:30 pm - 7:30 pm
The Crags Centre, 10 Bowmont Pl, Edinburgh EH8 9RY, UK


Diego Bado and Vanessa Leamy Corsini are teaching an open level class in Edinburgh.

Note that the venue has changed from the Ukrainian Centre to the Crags Centre. The Tango del Jueves practica takes place nearby immediately afterwards.

Monday 2 October 2023

Beginners' class with Vanessa and Diego
6:15 pm - 7:15 pm
Govan & Linthouse Parish, 796 Govan Rd, Govan, Glasgow G51 2YL, UK


Open level class with Vanessa & Diego
7:15 pm - 8:15 pm
Govan & Linthouse Parish, 796 Govan Rd, Govan, Glasgow G51 2YL, UK


Monday Practica
8:15 pm - 10:15 pm
Govan & Linthouse Parish, 796 Govan Rd, Govan, Glasgow G51 2YL, UK


Thursday 5 October 2023

Open level tango class in Edinburgh
6:30 pm - 7:30 pm
The Crags Centre, 10 Bowmont Pl, Edinburgh EH8 9RY, UK


Diego Bado and Vanessa Leamy Corsini are teaching an open level class in Edinburgh.

Note that the venue has changed from the Ukrainian Centre to the Crags Centre. The Tango del Jueves practica takes place nearby immediately afterwards.

Monday 9 October 2023

Beginners' class with Vanessa and Diego
6:15 pm - 7:15 pm
Govan & Linthouse Parish, 796 Govan Rd, Govan, Glasgow G51 2YL, UK


Open level class with Vanessa & Diego
7:15 pm - 8:15 pm
Govan & Linthouse Parish, 796 Govan Rd, Govan, Glasgow G51 2YL, UK


Monday Practica
8:15 pm - 10:15 pm
Govan & Linthouse Parish, 796 Govan Rd, Govan, Glasgow G51 2YL, UK


Thursday 12 October 2023

Open level tango class in Edinburgh
6:30 pm - 7:30 pm
The Crags Centre, 10 Bowmont Pl, Edinburgh EH8 9RY, UK


Diego Bado and Vanessa Leamy Corsini are teaching an open level class in Edinburgh.

Note that the venue has changed from the Ukrainian Centre to the Crags Centre. The Tango del Jueves practica takes place nearby immediately afterwards.

Monday 16 October 2023

Beginners' class with Vanessa and Diego
6:15 pm - 7:15 pm
Govan & Linthouse Parish, 796 Govan Rd, Govan, Glasgow G51 2YL, UK


Open level class with Vanessa & Diego
7:15 pm - 8:15 pm
Govan & Linthouse Parish, 796 Govan Rd, Govan, Glasgow G51 2YL, UK


Monday Practica
8:15 pm - 10:15 pm
Govan & Linthouse Parish, 796 Govan Rd, Govan, Glasgow G51 2YL, UK


Thursday 19 October 2023

Open level tango class in Edinburgh
6:30 pm - 7:30 pm
The Crags Centre, 10 Bowmont Pl, Edinburgh EH8 9RY, UK


Diego Bado and Vanessa Leamy Corsini are teaching an open level class in Edinburgh.

Note that the venue has changed from the Ukrainian Centre to the Crags Centre. The Tango del Jueves practica takes place nearby immediately afterwards.

Monday 23 October 2023

Beginners' class with Vanessa and Diego
6:15 pm - 7:15 pm
Govan & Linthouse Parish, 796 Govan Rd, Govan, Glasgow G51 2YL, UK


Open level class with Vanessa & Diego
7:15 pm - 8:15 pm
Govan & Linthouse Parish, 796 Govan Rd, Govan, Glasgow G51 2YL, UK


Monday Practica
8:15 pm - 10:15 pm
Govan & Linthouse Parish, 796 Govan Rd, Govan, Glasgow G51 2YL, UK


Thursday 26 October 2023

Open level tango class in Edinburgh
6:30 pm - 7:30 pm
The Crags Centre, 10 Bowmont Pl, Edinburgh EH8 9RY, UK


Diego Bado and Vanessa Leamy Corsini are teaching an open level class in Edinburgh.

Note that the venue has changed from the Ukrainian Centre to the Crags Centre. The Tango del Jueves practica takes place nearby immediately afterwards.

Monday 30 October 2023

Beginners' class with Vanessa and Diego
6:15 pm - 7:15 pm
Govan & Linthouse Parish, 796 Govan Rd, Govan, Glasgow G51 2YL, UK


Open level class with Vanessa & Diego
7:15 pm - 8:15 pm
Govan & Linthouse Parish, 796 Govan Rd, Govan, Glasgow G51 2YL, UK


Monday Practica
8:15 pm - 10:15 pm
Govan & Linthouse Parish, 796 Govan Rd, Govan, Glasgow G51 2YL, UK