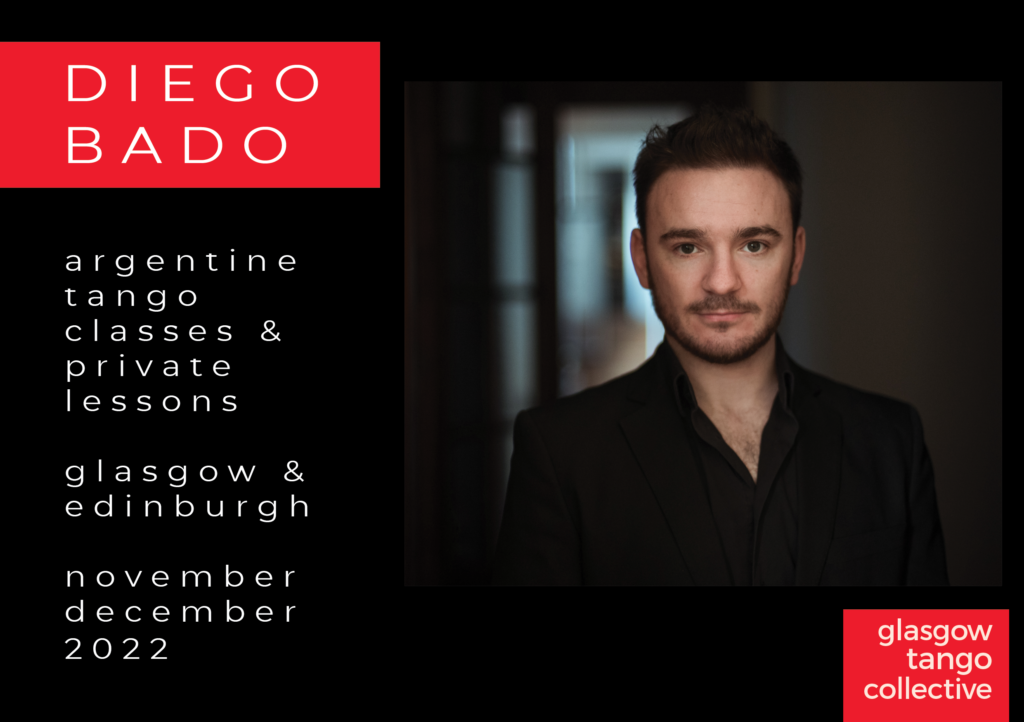 Diego Bado will be visiting Glasgow and Edinburgh regularly in Novemeber and December 2022, teaching classes and giving private lessons.
If you're interested in private lessons, please contact info@glasgowtangocollective.org.
Diego will teach workshops in Edinburgh on Saturday 3rd December (see details on Facebook) and in Glasgow on Sunday 4th December (see Facebook) With Vanessa Leamy Corsini.
EDINBURGH – Saturday 3rd December 2022
14:30 / Doors open – We will get started at 14:45 but you are welcome to arrive up to 15 minutes in advance to prepare.
14:45-16:00 / SPIRAL WORKSHOP (improver/intermediate level): Twisted movements in close embrace. Transforming the linear into circular. Creating long movements in reduced spaces.
16:30-17:45 / DANCE AND LET DANCE (open level): Exploring the active role of the follower. Tango as an active dialogue of two.
17:45-18:15 / FREE PRÁCTICA open to the attendees of the workshop(s).
The SPIRAL WORKSHOP is designed for improver/intermediate level. The DANCE AND LET DANCE workshop and the práctica are open to everyone: whether you are a beginner or an experienced dancer and want to find new inspirations, come along and have a wonderful time with us!
No booking and no partner needed, just show up.
Venue: The Pleasance, 60 Pleasance, Edinburgh EH8 9TJ.
We will be in the Upper Hall for the first workshop (14:45-16:00 SPIRAL WORKSHOP) *AND* in the Quaker Studio for the second workshop and for the práctica (16:30-17:45 DANCE AND LET DANCE + 17:45-18:15 FREE PRÁCTICA).
Prices:
£15 non member/non student (2 workshops £30)
£10 student or member (2 workshops £20)
£5 student and member (2 workshops £10)
See also the Facebook event.
GLASGOW – Sunday 4th December 2022
1:00 – 2:30 pm / Tango seminar – "Game of opposites": how to enrich your dance through contrasts such as changes of speed and dynamics.
2:30 to 6:00 pm / Matinee Milonga
Pre-booking is essential for the seminar. Milonga is pay on the door. Please email glasgowtangocollective@gmail.com
or contact Vanessa on 07532 606942 to book your space for the seminar or enquiries.
Venue: Kinning Park Complex, 43 Cornwall Street, Glasgow, G41 1BA. (next to Kinning Park subway station)
Prices:
Seminar £20 (£15 students)
Matinee Milonga £8 (£6 students)
See also the Facebook event.
Saturday 9 December 2023

Followers' technique class with Vanessa Leamy Corsini
12:30 pm - 1:30 pm
Studio Ile Ache, 44 Washington St, Glasgow G3 8AZ, UK


Monday 11 December 2023

Beginners' class with Vanessa and Diego
6:15 pm - 7:15 pm
Govan & Linthouse Parish, 796 Govan Rd, Govan, Glasgow G51 2YL, UK


Open level class with Vanessa & Diego
7:15 pm - 8:15 pm
Govan & Linthouse Parish, 796 Govan Rd, Govan, Glasgow G51 2YL, UK


Monday Practica
8:15 pm - 10:15 pm
Govan & Linthouse Parish, 796 Govan Rd, Govan, Glasgow G51 2YL, UK


Monday 18 December 2023

Beginners' class with Vanessa and Diego
6:15 pm - 7:15 pm
Govan & Linthouse Parish, 796 Govan Rd, Govan, Glasgow G51 2YL, UK


Open level class with Vanessa & Diego
7:15 pm - 8:15 pm
Govan & Linthouse Parish, 796 Govan Rd, Govan, Glasgow G51 2YL, UK


Monday Practica
8:15 pm - 10:15 pm
Govan & Linthouse Parish, 796 Govan Rd, Govan, Glasgow G51 2YL, UK


Saturday 6 January 2024

Followers' technique class with Vanessa Leamy Corsini
12:30 pm - 1:30 pm
Studio Ile Ache, 44 Washington St, Glasgow G3 8AZ, UK


Monday 8 January 2024

Beginners' class
6:15 pm - 8:15 pm
Govan & Linthouse Parish, 796 Govan Rd, Govan, Glasgow G51 2YL, UK


Open level class
7:15 pm - 8:15 pm
Govan & Linthouse Parish, 796 Govan Rd, Govan, Glasgow G51 2YL, UK


Monday Practica
8:15 pm - 10:15 pm
Govan & Linthouse Parish, 796 Govan Rd, Govan, Glasgow G51 2YL, UK


Sunday 14 January 2024

Chacarera class
1:30 pm - 2:30 pm
Govan & Linthouse Parish, 796 Govan Rd, Govan, Glasgow G51 2YL, UK


Matinée Milonga - "Milonga de la luz"
2:30 pm - 6:30 pm
Govan & Linthouse Parish Church hall, 796 Govan Rd, Govan, Glasgow G51 2YL, UK


Monday 15 January 2024

Beginners' class
6:15 pm - 8:15 pm
Govan & Linthouse Parish, 796 Govan Rd, Govan, Glasgow G51 2YL, UK


Open level class
7:15 pm - 8:15 pm
Govan & Linthouse Parish, 796 Govan Rd, Govan, Glasgow G51 2YL, UK


Monday Practica
8:15 pm - 10:15 pm
Govan & Linthouse Parish, 796 Govan Rd, Govan, Glasgow G51 2YL, UK


Monday 22 January 2024

Beginners' class
6:15 pm - 8:15 pm
Govan & Linthouse Parish, 796 Govan Rd, Govan, Glasgow G51 2YL, UK


Open level class
7:15 pm - 8:15 pm
Govan & Linthouse Parish, 796 Govan Rd, Govan, Glasgow G51 2YL, UK


Monday Practica
8:15 pm - 10:15 pm
Govan & Linthouse Parish, 796 Govan Rd, Govan, Glasgow G51 2YL, UK


Monday 29 January 2024

Beginners' class
6:15 pm - 8:15 pm
Govan & Linthouse Parish, 796 Govan Rd, Govan, Glasgow G51 2YL, UK