We run Argentine tango classes on Monday evenings at the Wellington Church, 77 Southpark Ave, Glasgow G12 8LE – just off University Avenue (map).
Intermediate Classes run continually on Mondays from 7pm until 8pm.
A new six week 'Absolute Beginners' series running from 8pm until 9pm starts on Monday 1st October 2018, which will be followed by an Improvers Term.
Each class costs £7 (£6 students). There is no need to book to attend the class. You may come with a partner or by yourself, in which case we will do our best to balance numbers.
Our classes are taught by Glasgow Tango Collective's resident professional, Vanessa Leamy Corsini.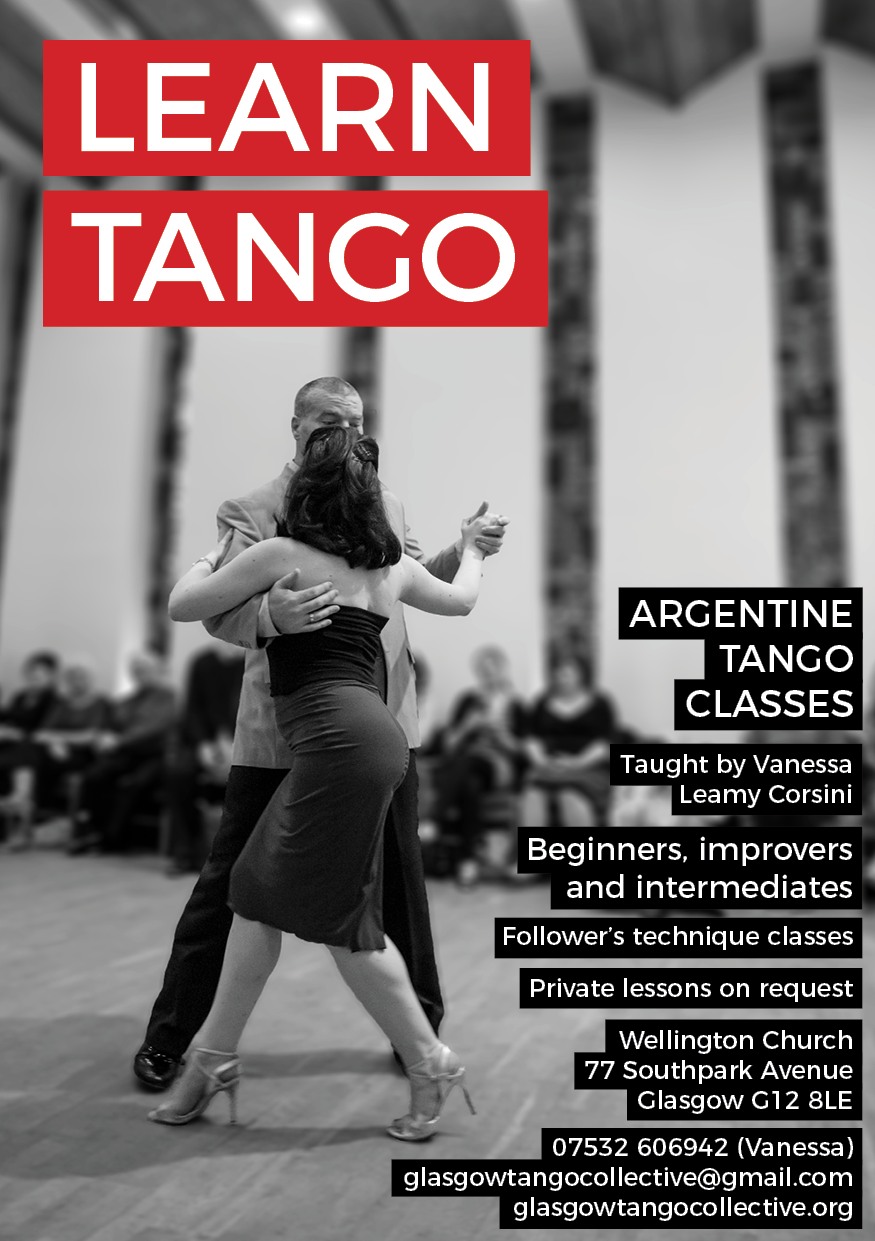 Monday 7 January 2019

Improver- Intermediate Class
7:00 pm - 8:00 pm
Wellington Church of Scotland, 77 Southpark Ave, Glasgow G12 8LE, UK

Monday 14 January 2019

Absolute Beginners Class
6:00 pm - 7:00 pm
Wellington Church of Scotland, 77 Southpark Ave, Glasgow G12 8LE, UK

Improver - Intermediate Class
7:00 pm - 8:00 pm
Wellington Church of Scotland, 77 Southpark Ave, Glasgow G12 8LE, UK

Monday 21 January 2019

Absolute Beginners Class
6:00 pm - 7:00 pm
Wellington Church of Scotland, 77 Southpark Ave, Glasgow G12 8LE, UK

Improver - Intermediate Class
7:00 pm - 8:00 pm
Wellington Church of Scotland, 77 Southpark Ave, Glasgow G12 8LE, UK

Monday 28 January 2019

Absolute Beginners Class
6:00 pm - 7:00 pm
Wellington Church of Scotland, 77 Southpark Ave, Glasgow G12 8LE, UK

Improver - Intermediate Class
7:00 pm - 8:00 pm
Wellington Church of Scotland, 77 Southpark Ave, Glasgow G12 8LE, UK

Monday 4 February 2019

Absolute Beginners Class
6:00 pm - 7:00 pm
Wellington Church of Scotland, 77 Southpark Ave, Glasgow G12 8LE, UK

Improver - Intermediate Class
7:00 pm - 8:00 pm
Wellington Church of Scotland, 77 Southpark Ave, Glasgow G12 8LE, UK

Monday 11 February 2019

Absolute Beginners Class
6:00 pm - 7:00 pm
Wellington Church of Scotland, 77 Southpark Ave, Glasgow G12 8LE, UK

Improver - Intermediate Class
7:00 pm - 8:00 pm
Wellington Church of Scotland, 77 Southpark Ave, Glasgow G12 8LE, UK

Monday 18 February 2019

Absolute Beginners Class
6:00 pm - 7:00 pm
Wellington Church of Scotland, 77 Southpark Ave, Glasgow G12 8LE, UK

Improver - Intermediate Class
7:00 pm - 8:00 pm
Wellington Church of Scotland, 77 Southpark Ave, Glasgow G12 8LE, UK

Monday 25 February 2019

Absolute Beginners Class
6:00 pm - 7:00 pm
Wellington Church of Scotland, 77 Southpark Ave, Glasgow G12 8LE, UK

Improver - Intermediate Class
7:00 pm - 8:00 pm
Wellington Church of Scotland, 77 Southpark Ave, Glasgow G12 8LE, UK

Monday 4 March 2019

Improver - Intermediate Class
7:00 pm - 8:00 pm
Wellington Church of Scotland, 77 Southpark Ave, Glasgow G12 8LE, UK

Monday 11 March 2019

Improvers Class
6:30 pm - 7:30 pm
Wellington Church of Scotland, 77 Southpark Ave, Glasgow G12 8LE, UK

Improver - Intermediate Class
7:00 pm - 8:00 pm
Wellington Church of Scotland, 77 Southpark Ave, Glasgow G12 8LE, UK

Monday 18 March 2019

Absolute beginner class - End of block
6:00 pm - 7:00 pm
Wellington Church of Scotland, 77 Southpark Ave, Glasgow G12 8LE, UK

Improver - Intermediate Class
7:00 pm - 8:00 pm
Wellington Church of Scotland, 77 Southpark Ave, Glasgow G12 8LE, UK

Monday 25 March 2019

Improver Class
7:00 pm - 8:00 pm
Wellington Church of Scotland, 77 Southpark Ave, Glasgow G12 8LE, UK

Monday 1 April 2019

Absolute beginner class
6:00 pm - 7:00 pm
Wellington Church of Scotland, 77 Southpark Ave, Glasgow G12 8LE, UK

Improver Class
7:00 pm - 8:00 pm
Wellington Church of Scotland, 77 Southpark Ave, Glasgow G12 8LE, UK

Monday 8 April 2019

Absolute beginner class
6:00 pm - 7:00 pm
Wellington Church of Scotland, 77 Southpark Ave, Glasgow G12 8LE, UK

Improver Class
7:00 pm - 8:00 pm
Wellington Church of Scotland, 77 Southpark Ave, Glasgow G12 8LE, UK

Monday 15 April 2019

Improver Class
7:00 pm - 8:00 pm
Wellington Church of Scotland, 77 Southpark Ave, Glasgow G12 8LE, UK

Monday 22 April 2019

Improver Class
7:00 pm - 8:00 pm
Wellington Church of Scotland, 77 Southpark Ave, Glasgow G12 8LE, UK

Monday 29 April 2019

Improver Class
7:00 pm - 8:00 pm
Wellington Church of Scotland, 77 Southpark Ave, Glasgow G12 8LE, UK

Monday 6 May 2019

Improver Class
7:00 pm - 8:00 pm
Wellington Church of Scotland, 77 Southpark Ave, Glasgow G12 8LE, UK

Monday 13 May 2019

Improver Class
7:00 pm - 8:00 pm
Wellington Church of Scotland, 77 Southpark Ave, Glasgow G12 8LE, UK

Monday 20 May 2019

Improver Class
7:00 pm - 8:00 pm
Wellington Church of Scotland, 77 Southpark Ave, Glasgow G12 8LE, UK

Monday 27 May 2019

Improver Class
7:00 pm - 8:00 pm
Wellington Church of Scotland, 77 Southpark Ave, Glasgow G12 8LE, UK

Monday 3 June 2019

Improver Class
7:00 pm - 8:00 pm
Wellington Church of Scotland, 77 Southpark Ave, Glasgow G12 8LE, UK

Monday 10 June 2019

Improver Class
7:00 pm - 8:00 pm
Wellington Church of Scotland, 77 Southpark Ave, Glasgow G12 8LE, UK

Monday 17 June 2019

Improver Class
7:00 pm - 8:00 pm
Wellington Church of Scotland, 77 Southpark Ave, Glasgow G12 8LE, UK

Monday 24 June 2019

Improver Class
7:00 pm - 8:00 pm
Wellington Church of Scotland, 77 Southpark Ave, Glasgow G12 8LE, UK

Monday 1 July 2019

Improver Class
7:00 pm - 8:00 pm
Wellington Church of Scotland, 77 Southpark Ave, Glasgow G12 8LE, UK

Monday 8 July 2019

Improver Class
7:00 pm - 8:00 pm
Wellington Church of Scotland, 77 Southpark Ave, Glasgow G12 8LE, UK

Monday 15 July 2019

Improver Class
7:00 pm - 8:00 pm
Wellington Church of Scotland, 77 Southpark Ave, Glasgow G12 8LE, UK

Monday 22 July 2019

Improver Class
7:00 pm - 8:00 pm
Wellington Church of Scotland, 77 Southpark Ave, Glasgow G12 8LE, UK