We run Argentine tango classes on Monday evenings at the Wellington Church, 77 Southpark Ave, Glasgow G12 8LE – just off University Avenue (map).
A new ten week absolute beginners course starts on Monday 21st January 2019 at 6pm. See here for details and bookings
Intermediate Classes run continually on Mondays from 7pm until 8pm. These classes costs £7 (£6 students), and there is no need to book to attend. You may come with a partner or by yourself, in which case we will do our best to balance numbers.
Our classes are taught by Glasgow Tango Collective's resident professional, Vanessa Leamy Corsini.
Vanessa also teaches followers' technique on Wednesday evenings.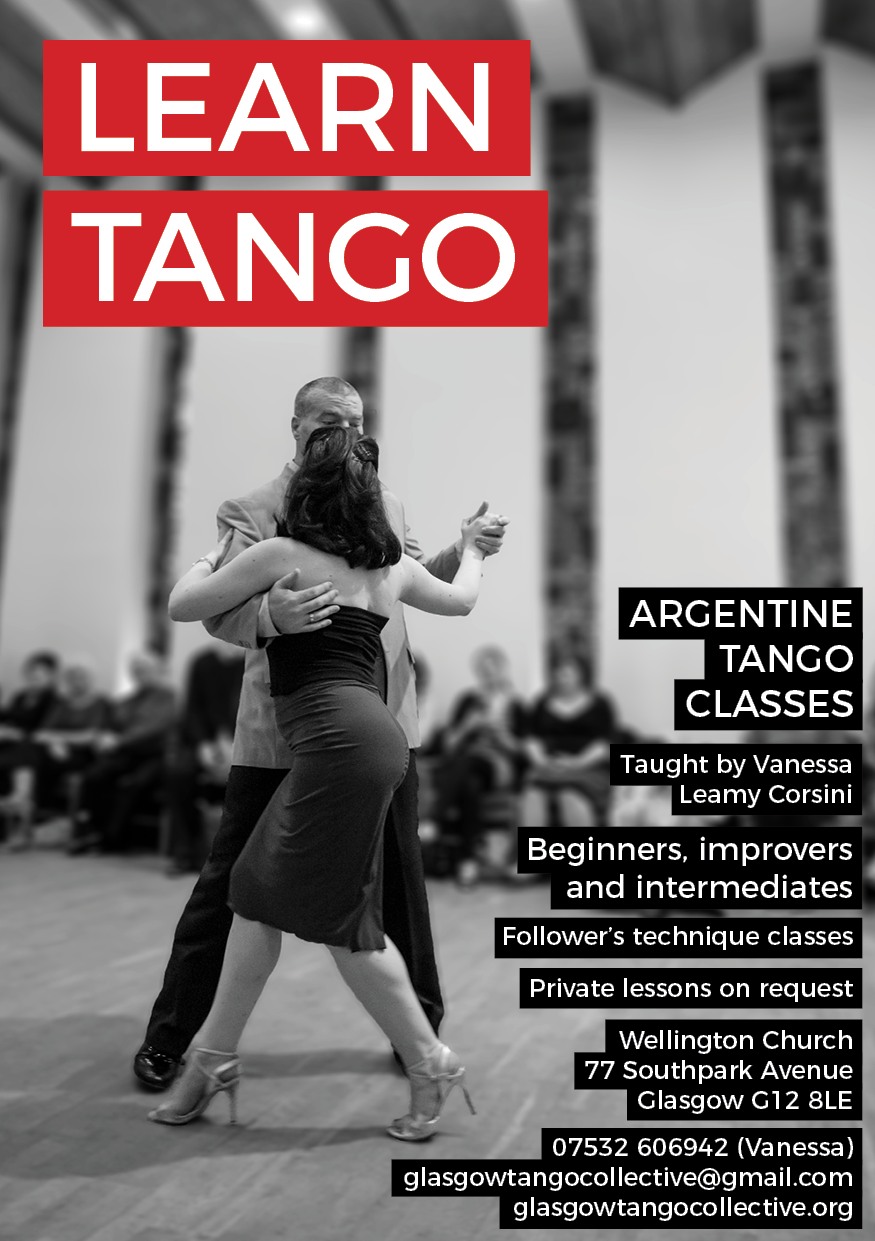 Monday 16 December 2019

Improver / Intermediate Class - Argentine Tango
7:00 pm - 8:00 pm
Wellington Church of Scotland, 77 Southpark Ave, Glasgow G12 8LE, UK

Monday 23 December 2019

Improver / Intermediate Class - Argentine Tango
7:00 pm - 8:00 pm
Wellington Church of Scotland, 77 Southpark Ave, Glasgow G12 8LE, UK

Monday 30 December 2019

Improver / Intermediate Class - Argentine Tango
7:00 pm - 8:00 pm
Wellington Church of Scotland, 77 Southpark Ave, Glasgow G12 8LE, UK

Monday 6 January 2020

Improver / Intermediate Class - Argentine Tango
7:00 pm - 8:00 pm
Wellington Church of Scotland, 77 Southpark Ave, Glasgow G12 8LE, UK

Monday 13 January 2020

Improver / Intermediate Class - Argentine Tango
7:00 pm - 8:00 pm
Wellington Church of Scotland, 77 Southpark Ave, Glasgow G12 8LE, UK

Monday 20 January 2020

Improver / Intermediate Class - Argentine Tango
7:00 pm - 8:00 pm
Wellington Church of Scotland, 77 Southpark Ave, Glasgow G12 8LE, UK

Monday 27 January 2020

Improver / Intermediate Class - Argentine Tango
7:00 pm - 8:00 pm
Wellington Church of Scotland, 77 Southpark Ave, Glasgow G12 8LE, UK

Monday 3 February 2020

Improver / Intermediate Class - Argentine Tango
7:00 pm - 8:00 pm
Wellington Church of Scotland, 77 Southpark Ave, Glasgow G12 8LE, UK

Monday 10 February 2020

Improver / Intermediate Class - Argentine Tango
7:00 pm - 8:00 pm
Wellington Church of Scotland, 77 Southpark Ave, Glasgow G12 8LE, UK

Monday 17 February 2020

Improver / Intermediate Class - Argentine Tango
7:00 pm - 8:00 pm
Wellington Church of Scotland, 77 Southpark Ave, Glasgow G12 8LE, UK

Monday 24 February 2020

Improver / Intermediate Class - Argentine Tango
7:00 pm - 8:00 pm
Wellington Church of Scotland, 77 Southpark Ave, Glasgow G12 8LE, UK

Monday 2 March 2020

Improver / Intermediate Class - Argentine Tango
7:00 pm - 8:00 pm
Wellington Church of Scotland, 77 Southpark Ave, Glasgow G12 8LE, UK

Monday 9 March 2020

Improver / Intermediate Class - Argentine Tango
7:00 pm - 8:00 pm
Wellington Church of Scotland, 77 Southpark Ave, Glasgow G12 8LE, UK

Monday 16 March 2020

Improver / Intermediate Class - Argentine Tango
7:00 pm - 8:00 pm
Wellington Church of Scotland, 77 Southpark Ave, Glasgow G12 8LE, UK

Monday 23 March 2020

Improver / Intermediate Class - Argentine Tango
7:00 pm - 8:00 pm
Wellington Church of Scotland, 77 Southpark Ave, Glasgow G12 8LE, UK

Monday 30 March 2020

Improver / Intermediate Class - Argentine Tango
7:00 pm - 8:00 pm
Wellington Church of Scotland, 77 Southpark Ave, Glasgow G12 8LE, UK

Monday 6 April 2020

Improver / Intermediate Class - Argentine Tango
7:00 pm - 8:00 pm
Wellington Church of Scotland, 77 Southpark Ave, Glasgow G12 8LE, UK

Monday 13 April 2020

Improver / Intermediate Class - Argentine Tango
7:00 pm - 8:00 pm
Wellington Church of Scotland, 77 Southpark Ave, Glasgow G12 8LE, UK

Monday 20 April 2020

Improver / Intermediate Class - Argentine Tango
7:00 pm - 8:00 pm
Wellington Church of Scotland, 77 Southpark Ave, Glasgow G12 8LE, UK

Monday 27 April 2020

Improver / Intermediate Class - Argentine Tango
7:00 pm - 8:00 pm
Wellington Church of Scotland, 77 Southpark Ave, Glasgow G12 8LE, UK

Monday 4 May 2020

Improver / Intermediate Class - Argentine Tango
7:00 pm - 8:00 pm
Wellington Church of Scotland, 77 Southpark Ave, Glasgow G12 8LE, UK

Monday 11 May 2020

Improver / Intermediate Class - Argentine Tango
7:00 pm - 8:00 pm
Wellington Church of Scotland, 77 Southpark Ave, Glasgow G12 8LE, UK

Monday 18 May 2020

Improver / Intermediate Class - Argentine Tango
7:00 pm - 8:00 pm
Wellington Church of Scotland, 77 Southpark Ave, Glasgow G12 8LE, UK

Monday 25 May 2020

Improver / Intermediate Class - Argentine Tango
7:00 pm - 8:00 pm
Wellington Church of Scotland, 77 Southpark Ave, Glasgow G12 8LE, UK

Monday 1 June 2020

Improver / Intermediate Class - Argentine Tango
7:00 pm - 8:00 pm
Wellington Church of Scotland, 77 Southpark Ave, Glasgow G12 8LE, UK

Monday 8 June 2020

Improver / Intermediate Class - Argentine Tango
7:00 pm - 8:00 pm
Wellington Church of Scotland, 77 Southpark Ave, Glasgow G12 8LE, UK

Monday 15 June 2020

Improver / Intermediate Class - Argentine Tango
7:00 pm - 8:00 pm
Wellington Church of Scotland, 77 Southpark Ave, Glasgow G12 8LE, UK

Monday 22 June 2020

Improver / Intermediate Class - Argentine Tango
7:00 pm - 8:00 pm
Wellington Church of Scotland, 77 Southpark Ave, Glasgow G12 8LE, UK

Monday 29 June 2020

Improver / Intermediate Class - Argentine Tango
7:00 pm - 8:00 pm
Wellington Church of Scotland, 77 Southpark Ave, Glasgow G12 8LE, UK

Monday 6 July 2020

Improver / Intermediate Class - Argentine Tango
7:00 pm - 8:00 pm
Wellington Church of Scotland, 77 Southpark Ave, Glasgow G12 8LE, UK

Monday 13 July 2020

Improver / Intermediate Class - Argentine Tango
7:00 pm - 8:00 pm
Wellington Church of Scotland, 77 Southpark Ave, Glasgow G12 8LE, UK

Monday 20 July 2020

Improver / Intermediate Class - Argentine Tango
7:00 pm - 8:00 pm
Wellington Church of Scotland, 77 Southpark Ave, Glasgow G12 8LE, UK

Monday 27 July 2020

Improver / Intermediate Class - Argentine Tango
7:00 pm - 8:00 pm
Wellington Church of Scotland, 77 Southpark Ave, Glasgow G12 8LE, UK

Monday 3 August 2020

Improver / Intermediate Class - Argentine Tango
7:00 pm - 8:00 pm
Wellington Church of Scotland, 77 Southpark Ave, Glasgow G12 8LE, UK

Monday 10 August 2020

Improver / Intermediate Class - Argentine Tango
7:00 pm - 8:00 pm
Wellington Church of Scotland, 77 Southpark Ave, Glasgow G12 8LE, UK

Monday 17 August 2020

Improver / Intermediate Class - Argentine Tango
7:00 pm - 8:00 pm
Wellington Church of Scotland, 77 Southpark Ave, Glasgow G12 8LE, UK

Monday 24 August 2020

Improver / Intermediate Class - Argentine Tango
7:00 pm - 8:00 pm
Wellington Church of Scotland, 77 Southpark Ave, Glasgow G12 8LE, UK

Monday 31 August 2020

Improver / Intermediate Class - Argentine Tango
7:00 pm - 8:00 pm
Wellington Church of Scotland, 77 Southpark Ave, Glasgow G12 8LE, UK

Monday 7 September 2020

Improver / Intermediate Class - Argentine Tango
7:00 pm - 8:00 pm
Wellington Church of Scotland, 77 Southpark Ave, Glasgow G12 8LE, UK

Monday 14 September 2020

Improver / Intermediate Class - Argentine Tango
7:00 pm - 8:00 pm
Wellington Church of Scotland, 77 Southpark Ave, Glasgow G12 8LE, UK